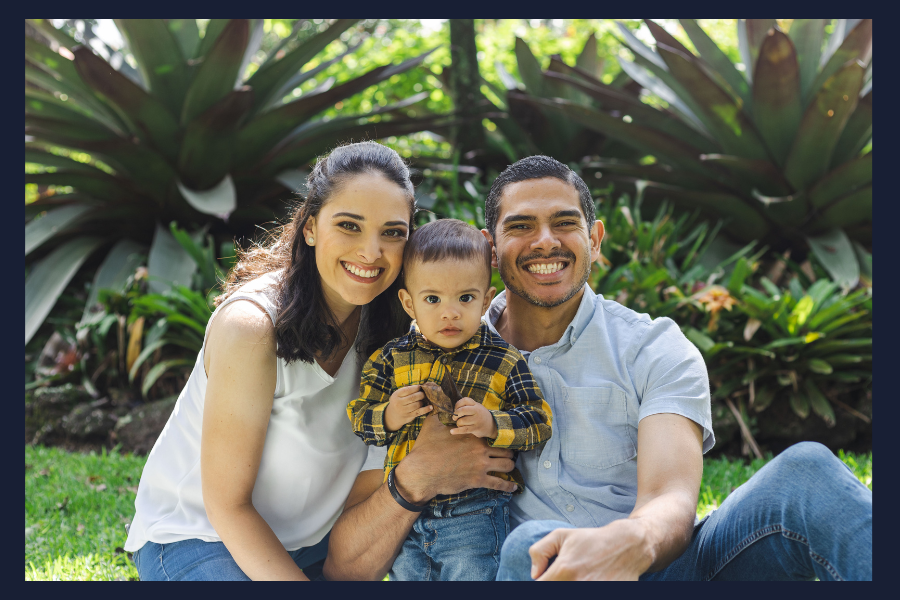 Missionaries to Costa Rica
Aaron and Melanny are missionaries in their home country of Costa Rica. Recently Aaron was appointed senior pastor of the Family of Faith Church (Familia de Fe Church). His purpose is to continue doing church in a healthy way in Costa Rica and to see people worshiping God, believers being edified and non-believers being reached with the true gospel. Aaron dreams of planting more healthy churches in other provinces of the country, following in the footsteps of this local church planter.
Aaron is an Industrial Engineer by profession, but, the same year he graduated (2011) he was reached by the grace of God. Since then, Aaron has sought to grow in the knowledge of God and serve through the local church. He led the prayer ministry in his church and served as a youth leader and teacher for 8 years. He also participated in worship through music and Sunday teaching. In 2017 he began working full time in ministry as the administrative pastor of his local church for 3.5 years. In 2021 he became the director for Costa Rica of the parachurch ministry The Voice of the Martyrs USA.
In 2020, while in his third year of his Bachelor's degree in theology at ESEPA Seminary, he obtained a scholarship to study for a Master's degree in Biblical Ministry at The Master's Seminary which he completed in April 2023. His desire is to continue training to diligently serve the local church and train the next generation of pastors and missionaries.
Aaron and Melanny have known each other since 2007, but their story began in 2013. They have been married for 7 years and are blessed to be parents to Gabriel.

Melanny is a professional in Preschool Education with a Bachelor's degree in language stimulation and remediation. She currently works from home as an administrative assistant at The Voice of The Martyrs USA parachurch ministry. She also serves in the women's ministry at the local church, supports Aaron and cares for her young son.
Melanny has a desire to become certified in biblical counseling to continue discipling the women of her local church in specific ways.
Aarón y Melanny son misioneros en su país natal, Costa Rica. Recientemente Aarón fue nombrado pastor principal de la Iglesia Familia de Fe (Family of Faith Church). Su propósito es seguir haciendo iglesia de manera saludable en Costa Rica y ver personas adorando a Dios, creyentes siendo edificados y no creyentes siendo alcanzados con el verdadero evangelio. Aarón sueña con plantar más iglesias saludables en otras provincias del país, siguiendo los pasos del plantador de esta iglesia local.
Aarón es Ingeniero Industrial de profesión, pero, el mismo año en que se graduó (2011) fue alcanzado por la gracia de Dios. Desde entonces, Aarón ha buscado crecer en el conocimiento de Dios y servir a través de la iglesia local. Dirigió el ministerio de oración en su iglesia y sirvió como líder y maestro de jóvenes por 8 años. También participó de la adoración por medio de la música y de la enseñanza
dominical. En 2017 empezó a trabajar tiempo completo en el ministerio como pastor administrativo de su iglesia local por 3 años y medio. En 2021 se convirtió en director para Costa Rica del ministerio para-eclesial The Voice of the Martyrs USA.
En 2020, mientras cursaba su tercer año de Bachillerato en teología en el Seminario ESEPA, obtuvo una beca para estudiar una Maestría en Ministerio Bíblico en The Master´s Seminary la cual finalizó en abril 2023. Su deseo es seguir capacitándose para servir diligentemente a la iglesia local y capacitar a la siguiente generación de pastores y misioneros.
Aarón y Melanny se conocieron desde 2007, pero su historia empezó en 2013. Tienen 7 años de casados y la bendición de ser padres de Gabriel.
Melanny es profesional en Educación Preescolar con una Licenciatura en estimulación y corrección del lenguaje. Actualmente trabaja desde casa como asistente administrativa en el ministerio para-eclesial The Voice of The Martyrs USA. También sirve en el ministerio de mujeres de la iglesia local, apoya a Aarón y cuida de su pequeño hijo.
Melanny tiene el deseo de certificarse en consejería bíblica para seguir discipulando de maneras específicas a las mujeres de su iglesia local.